Ahmedabad: At least three exit polls on Thursday showed the BJP was headed for a win in Gujarat after the two-phase assembly elections concluded in Prime Minister Narendra Modi's home state.
Analysts earlier predicted the Congress could give the BJP, which has been in power in the state for 22 years, a fight this time around.
Read: Exit polls results from Himachal Pradesh are in
Gujarat has seen a bitter and intense campaign from both sides over issues ranging from vikas, demonetisation and GST to unemployment and rural distress. The final week saw personal attacks, with Congress' Mani Shankar Aiyar calling Narendra Modi a "neech kisam ka aadmi" and the prime minister retorting with a 'Pakistan collusion' charge.
"It seems clear that the BJP enjoys an edge in Gujarat," Psephologist and political activist Yogendra Yadav said of the exit polls.
Am surprised, but no reason to disbelieve all exit polls, since they all point in the same direction.
We can't still be sure of seats, but it seems clear that BJP enjoys an edge in Gujarat.

— Yogendra Yadav (@_YogendraYadav) December 14, 2017
Times Now-VMR exit polls
According to Times Now-VMR exit polls, BJP seems getting 109 seats out 182 seats in Gujarat, while Congress is expected to get 70 seats and other 3. In 2012 Assembly elections BJP had won 115 seats under Narendra Modi's leadership, while Congress had won 61 seats.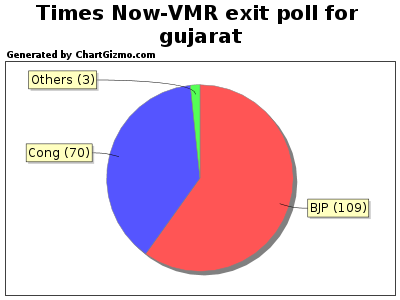 Republic-Jan Ki Baat
The Republic-Jan Ki Baat predictions for Gujarat stipulate that the BJP will win 108 seats; while the Congress will tally at 74.
C-Voter
Meanwhile, C-Voter predicts vote share in Gujarat, says the BJP is likely to bag 47.4% votes, the Congress 43.3% and Others 9.3%.
CNN-News18 Mega Poll of Polls
The CNN-News18 Mega Poll of Polls employed well-known psephologist Surjit Bhalla's prediction for Gujarat which put the BJP at 125 and the Congress at 57.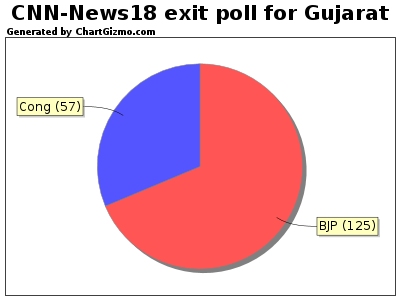 Sahara Samaya-CNX
Sahara Samaya-CNX survey also says the BJP will retain power in Gujarat. It has predicted 110-120 seats for the saffron party and 65-75 seats for the Congress.
ABP
The ABP poll survery suggests that Congress will rise up to 78-86 seats while the BJP will see a decline at 91-99 seats.